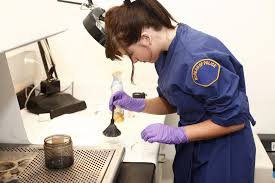 Forensic Nursing Science applies nursing science combined with forensic principles into legal matters, based on therapeutic jurisprudence. The focus of therapeutic jurisprudence is the achievement of individual and societal wellbeing through legal processes. The population focus of the Forensic Nursing Science is composed by those involved in healthcare legal issues. Forensic Nurse is a term that encompasses legal nurse consultants, death investigators, sexual assault nurse examiners, forensic psychiatric nurses, correctional nurses, and clinical forensic nurses.
The American Nursing Association recognized Forensic Nursing as a specialty in 1995. The International Association of Forensic Nurses - IAFN is the organization that represents the Forensic Nursing Science specialty. Forensic nurses are impartial; they advocate for the truth and justice in a caring and compassionate way.
The Master of Science in Nursing (MSN) Forensic Nursing Track provides general education on forensic nursing and law concepts.
Forensic Nursing Career Opportunities with additional certifications:
Clinical Forensic Nurses (adult or pediatric) function as Sexual Assault Nurse Examiners (SANE). They have a role in cases such as interpersonal violence, abuse, and negligence. They provide nursing care and observation for victims and perpetrators of crimes throughout their hospital stay and collect evidence for possible legal procedures.
Legal Nurse Consultants support their clients (lawyers) in the development of cases involving healthcare issues both in the civil and criminal areas. Legal nurse consultants may function as a testifying expert or as a consulting expert. They are qualified to analyze potential legal cases, such as negligence, injuries, illnesses, and product liability.
Forensic Psychiatric Nurses function in legal cases involving mental health issues, as consultants or expert witnesses. They have a role in cases such as competence for healthcare decisions and guardianship. They provide care for inmates with mental health issues, care of patients in civil commitment, and their families.
Forensic Correctional Nurses work in correctional facilities. They provide quality healthcare to inmates, recognizing their right to healthcare as a human right. Their work includes assessments of inmates treatment of acute and chronic illnesses and substance abuse, emergencies, case management, and health promotion.
Forensic Nurse Death Investigators are representatives of the medical examiner or coroner's office. They work collaboratively with the police and other authorities on the case. Forensic Nurse Death Investigators collect evidence from the body and the surrounding area. They testify in civil or criminal court cases.
Admission Requirements
Students applying to the program must hold a valid, active license as an RN in the United States, a baccalaureate degree in Nursing with a minimum cumulative GPA of 3.0, and have completed an undergraduate or graduate-level statistics course.
A maximum of 12 credit hours of "select" MSN degree courses are permitted to be taken as a non-nursing graduate student.  Contact program Director for approval of "select" courses.
Application Instructions
Apply to the College of Graduate Studies;  Priority consideration is given to applications received by March 15 for fall enrollment. 

After March 15, applications will be considered on a space-availability basis.

Submit official transcripts for all post-secondary education
Submit a 2-3 page essay identifying your population of interest; how to you plan to use your MSN degree to enhance your professional growth and development; and skills you hope to acquire during the program
Two (2) professional letters of recommendation
Resume
All application materials must be submitted to:
Cleveland State University
Application Processing Center
Office of University Registrar
1836 Euclid Avenue, UN 443
Cleveland, OH 44115
---
Course Sequence and Degree Planner Information
MSN Forensic Nursing Degree Planner 
---
Professional/Career Information
International Association of Forensic Nurses
Former Dean, Vida Lock discusses Forensic Nursing on About.com