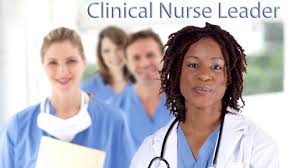 The MSN Clinical Nurse Leader track prepares Registered Nurses to assume leadership roles in the provision and management of health care. Coursework focuses on developing advanced skills in advocacy, education, policy and organization, supervision, delegation, and interdisciplinary teamwork. Students are prepared to utilize knowledge, research, and evidence-based practice to design, implement, manage, and evaluate patient care initiatives in order to improve patient outcomes. The program starts every Summer semester for the blended program delivery option.
Students who complete the MSN Clinical Nurse Leader track, including 400 hours practica, have completed the educational requirements needed to take the CNL Certification exam.
The Clinical Nurse Leader oversees the lateral integration of care for a distinct group of patients and may actively provide direct patient care in complex situations. The CNL puts evidence-based practice into action to ensure that patients benefit from the latest innovations in care delivery.  The CNL collects and evaluates patient outcomes, assesses cohort risk, and has the decision making authority to change care plans when necessary. This clinician functions as part of an interprofessional team by communicating, planning, and implementing care directly with other healthcare professionals, including physicians, pharmacists, social workers, clinical nurse specialists and nurse practitioners.
The Clinical Nurse Leader role is not one of administration or management. The CNL is a leader in healthcare delivery across all settings, not just in acute care. Implementation of this role will vary across settings. The CNL role is fully described in AACN's white paper on The Education and Role of the Clinical Nurse Leader (2007) found online at:
http://www.aacn.nche.edu/Publications/WhitePapers/ClinicalNurseLeader.htm
Admission Requirements
Students applying to the program must hold a valid, active license as an RN in the United States, a baccalaureate degree in Nursing with a minimum cumulative GPA of 3.0, and have completed an undergraduate or graduate-level statistics course.
A maximum of 12 credit hours of "select" MSN degree courses are permitted to be taken as a non-nursing graduate student.  Contact program Director for approval of "select" courses.
Application Instructions
Apply to the College of Graduate Studies;  Priority consideration is given to applications received by March 15 for fall enrollment. 

After March 15, applications will be considered on a space-availability basis.

Submit official transcripts for all post-secondary education
Submit a 2-3 page essay identifying your population of interest; how to you plan to use your MSN degree to enhance your professional growth and development; and skills you hope to acquire during the program
Two (2) professional letters of recommendation
Resume
All application materials must be submitted to
Cleveland State University
Application Processing Center
Office of University Registrar
1836 Euclid Avenue, UN 443
Cleveland, OH 44115
---
Course Sequence and Degree Planner Information
MSN Clinical Nurse Leader Degree Planner 
---
Professional/Career Information
The Commission on Nurse Certification eligibility criteria for the Clinical Nurse Leader (CNL) examination includes a minimum of 400 clinical hours in a clinical immersion experience as part of a formal CNL education program. Students who select the thesis option will also need to take NUR 606 if they desire to take the CNL exam (AACN, 2011).
The Commission on Nurse Certification's CNL Certification Program