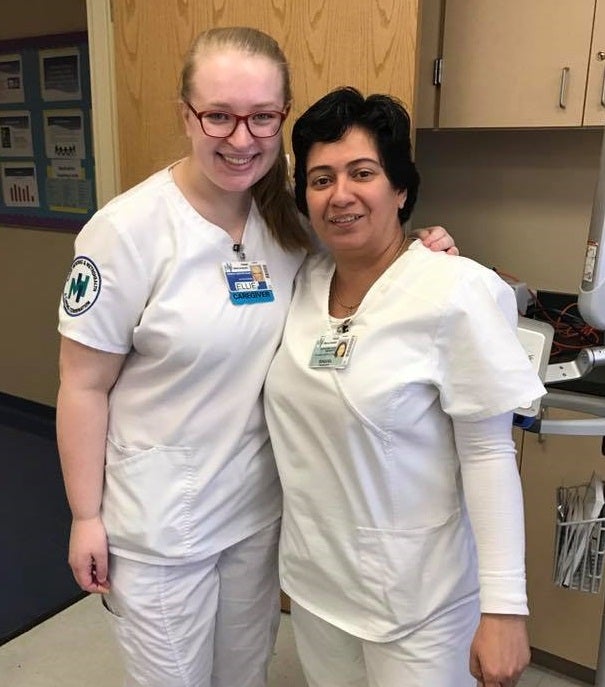 The Master of Science in Nursing (MSN) degree in Nursing Education prepares Registered Nurses to teach and supervise nursing students and professional nurses in clinical settings. Coursework focuses on curriculum development and implementation, faculty and student roles, and the evaluation and supervision of nursing students.
Graduates of the Cleveland State University Master of Science in Nursing (MSN) Nursing Education Track practice in many of the specialization areas listed above including, but not limited to, serving as clinical and didactic faculty at the undergraduate and graduate level, staff development specialists in some of the nation's most prestigious health care systems, and community-based health promotion and education programs. 
Nursing Education Programs at the Associate, Baccalaureate, and Graduate Degree Level: Nurse Educator Faculty serve on curriculum design teams, teach and evaluate students in a face-to-face and online learning environment, advise and mentor students, serve on capstone and thesis committees.
Organizational and Leadership Programs in Health Care Facilities: Nurse educators serve as a catalyst and collaborator for implementing best practices and evidence-based research education programs to improve health outcomes for patients.  They are seen as key members of the interdisciplinary team and leaders in assisting systems earn Magnet Recognition.  The Magnet Recognition Program was developed by the American Nurses Credentialing Center (ANCC), recognizes healthcare organizations that provide nursing excellence. The Magnet Recognition Program recognizes health-care organizations for quality patient care, nursing excellence and innovations in professional nursing practice.
Community-based Health and Social Service Organizations: Nurse educators are skilled in assessment community health and social service needs serving diverse culturally rich communities.  Being prepared in curriculum design, implementation, and evaluation, nurse educators readily assist community organizations reach their population with educational programs designed to meet the needs of their constituents.
Students who complete the MSN in Nursing Education have completed the educational requirements required to apply for the National League for Nursing's Certification for Nurse Educators.
Admission Requirements
Students applying to the program must hold a valid, active license as an RN in the United States, a baccalaureate degree in Nursing with a minimum cumulative GPA of 3.0, and have completed an undergraduate or graduate-level statistics course.
A maximum of 12 credit hours of "select" MSN degree courses are permitted to be taken as a non-nursing graduate student.  Contact program Director for approval of "select" courses.
Application Instructions
Apply to the College of Graduate Studies;  Priority consideration is given to applications received by March 15 for fall enrollment. 

After March 15, applications will be considered on a space-availability basis.

Submit official transcripts for all post-secondary education
Submit a 2-3 page essay identifying your population of interest; how to you plan to use your MSN degree to enhance your professional growth and development; and skills you hope to acquire during the program
Two (2) professional letters of recommendation
Resume
All application materials must be submitted to:
Cleveland State University
Application Processing Center
Office of University Registrar
1836 Euclid Avenue, UN 443
Cleveland, OH 44115
---
Course Sequence and Degree Planner Information
MSN Nursing Education Degree Planner 
---
Professional/Career Information
National League for Nursing's Certification for Nurse Educators