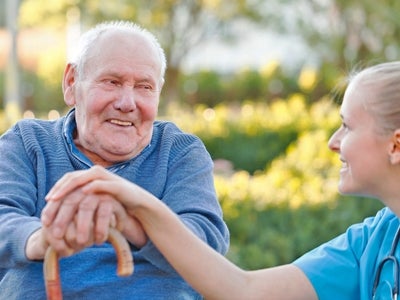 Master of Science in Nursing (MSN) degree in Specialized Populations in Nursing prepares graduates to identify, plan, deliver and evaluate the health care needs of individuals with similar health alternations, diseases, or disabilities.  In addition with providing nursing services for groups of patients, the graduate specializing in this area is prepared to design, implement and evaluate services for entire communities or aggregate populations.
Students concentrating on the health needs of a defined aggregate (e.g. cardiovascular patients, pregnant adolescents; lifestyle: substance/alcohol abuse; ethnicity: Native Americans, veterans; or environment: asbestos removal workers etc.) will enter the Specialized Population Track.
Graduates of the Cleveland State University Master of Science in Nursing (MSN) Specialized Populations in Nursing Track practice in many of the specialization areas listed below including, but not limited to, serving in some of the nation's most prestigious health care systems working with a specific patient population, community-based organizations and agencies meeting the needs of a particular client population, and insurance and access to care organizations.
Organizational and Leadership Programs in Health Care Facilities: Graduates who focus on the health needs of groups of patients use best practices and evidence-based research to design health care services for patients in order to improve health outcomes, level of function that enhances the quality of life. The coordination and management of services and care provided extend from pre-admission through discharge to the community or home.
Community-based Health and Social Service Organizations: Nurses focusing on the health care service delivery to specific patient populations are key leaders in meeting the needs of clients served by community-based health and social service organizations.  Skilled in developing targeted health care programming and services to meet the needs of an organization, these nurses are invaluable in designing transitional care services that will take patients or clients from an acute care environment to the community.
Admission Requirements
Students applying to the program must hold a valid, active license as an RN in the United States, a baccalaureate degree in Nursing with a minimum cumulative GPA of 3.0, and have completed an undergraduate or graduate-level statistics course. 
A maximum of 12 credit hours of "select" MSN degree courses are permitted to be taken as a non-nursing graduate student.  Contact program Director for approval of "select" courses.
Application Instructions
Apply to the College of Graduate Studies;  Priority consideration is given to applications received by March 15 for fall enrollment. 

After March 15, applications will be considered on a space-availability basis.

Submit official transcripts for all post-secondary education
Submit a 2-3 page essay identifying your population of interest; how to you plan to use your MSN degree to enhance your professional growth and development; and skills you hope to acquire during the program
Two (2) professional letters of recommendation
Resume
All application materials must be submitted to
Cleveland State University
Application Processing Center
Office of University Registrar
1836 Euclid Avenue, UN 443
Cleveland, OH 44115
---
Course Sequence and Degree Planner Information