OTD CURRICULAR OVERVIEW
The Occupational Therapy Doctorate Program is an entry-level professional degree.  It is designed to cover the breadth and depth of knowledge required for graduates to successfully complete fieldwork, pass a competency exam, complete a doctoral capstone, pass the national Certification Exam administered by the National Board of Certification in Occupational Therapy (www.nbcot.org), and become licensed to practice occupational therapy in diverse settings.  Classes which begin in the Fall term are offered weekdays for five consecutive semesters, including summer.  Six months of Level II Fieldwork follow in the Summer and Fall of the second year.  The doctoral capstone is an integral part of the program's curriculum design.  Three Doctoral Capstone preparation courses will be completed that are designed to prepare students for the doctoral capstone (experience and project). The doctoral capstone proposal will be completed by the end of Fall of the third year so that the students are ready to begin the capstone experience in Spring of the third year.
The key threads to the curriculum are:
OCCUPATION-CENTERED PRACTICE ACROSS THE LIFESPAN 
INNOVATIVE PRACTICE AND EXPERIENTIAL LEARNING
CLINICAL REASONING AND PRACTICE EXPERIENCE IN DIVERSE AND COMPLEX SYSTEMS/SETTINGS
CLIENT- AND FAMILY-CENTERED CARE
EVIDENCE BASED PRACTICE, RESEARCH, AND KNOWLEDGE TRANSLATION
COLLABORATION WITH UNIVERSITY AND COMMUNITY PARTNERS
PROFESSIONAL SOCIALIZATION AND LEADERSHIP DEVELOPMENT
 
OCCUPATIONAL THERAPY DOCTORATE CURRICULUM SEQUENCE
The Occupational Therapy Doctoral Program curriculum consists of 103 credits, including 56 credits of academic coursework in core areas of practice, 22 credits of fieldwork comprised of 8 credits of Level I Fieldwork which includes 2 credits of service learning, 14 credits of Level II Fieldwork,  6 credits of electives, 1 credit for competency examination and preparation, and 18 credits of doctoral capstone work that consists of 3 preparatory seminars, the doctoral experience (14 weeks/560 hours), and a doctoral capstone project.  The three-year program begins Fall semester.  A part-time option is available for students who wish to complete the program in four or five years due to life situations that prevent full-time completion.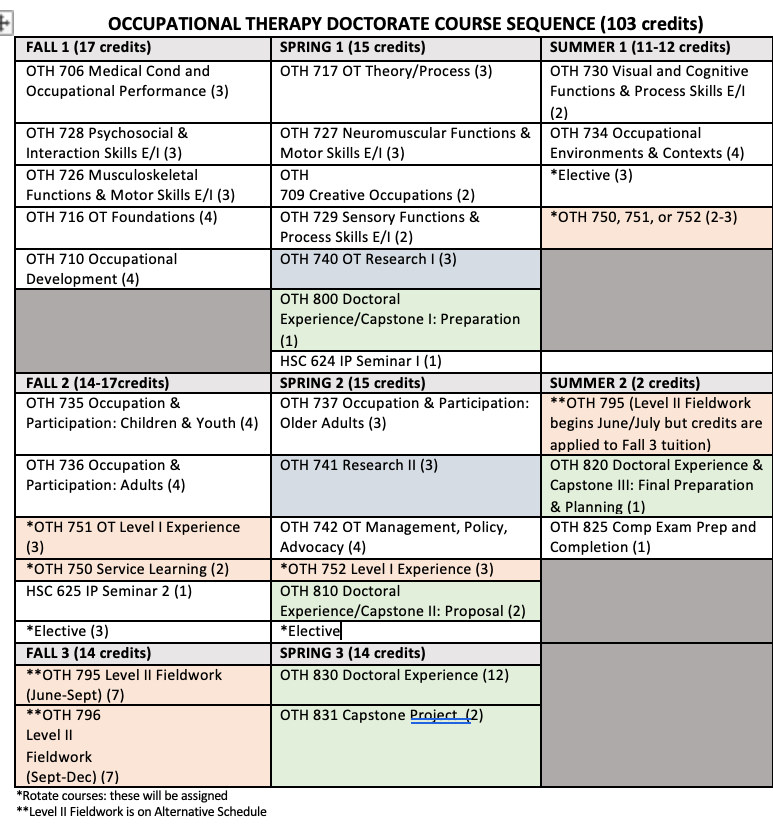 Fieldwork: Fieldwork dates correspond with "AOTA Suggested Level II Fieldwork Experience Dates for OT Students" (www.aota.org).  Because the first Level II Fieldwork experience begins Summer II and ends in Fall III, the course is scheduled within the Fall III term.  Students must register for the course before they may begin the experience in the Summer II. 
Students are assigned to one semester each of OTH 750 Service Learning, OTH 751 OT Level I Experience, and OTH 752 OT Level I Experience. These courses are offered multiple semesters; the above is an example of a typical schedule.
Doctoral Capstone:  The OTD will require that students complete a culminating Doctoral Capstone which consists of a capstone experience and capstone project. The doctoral capstone will enhance the OT Program's community-based initiatives by emphasizing population health (promotion, prevention, and intervention) through the use of occupation-centered approaches or research that adds to the knowledge base of occupational therapy. The capstone is scheduled to occur during the final semester (Spring 3) of the program to ensure for the development and application of in-depth knowledge and skills in the student's designated area of interest. It will be designed through collaboration of the faculty and student, provided in setting(s) consistent with the program's curricular design, including individualized specific objectives and plans for supervision.  Each student will have a faculty advisor assigned to him/her by the Doctoral Capstone Coordinator. 
Three (3) Doctoral Capstone preparation courses will be completed and include:
1)  OTH 800: Doctoral Capstone I: Preparation (Spring, 1);
2)  OTH 810: Doctoral Capstone II: Proposal (Spring 2); and
3)  OTH 820: Doctoral Capstone III: Final Preparation and Planning (Summer 2).
These courses are designed to prepare students for the doctoral capstone (experience and project) and will include a literature review, needs assessment, and the development of goals and objectives to evaluate the capstone. A doctoral committee will be assigned to each student by the Doctoral Capstone Coordinator.
As the student prepares for the capstone experience, they identify a community site that will host them for the 14 week, 560-hour experience. The community site will have a focus on community or population health and provide our students with a site mentor, someone with at least 2 years' experience in that practice area and is willing to supervise the student over the capstone experience.  Students work collaboratively with the site and site mentor, along with their faculty advisor and the Doctoral Capstone Coordinator to develop a detailed proposal of work that will be accomplished over the 14-week capstone experience.  (Interested in hosting a capstone student? Click here  to submit your interest in hosting an OTD capstone student. Our Doctoral Capstone Coordinator will contact you if we need more details or to introduce you to an interested student.
The capstone proposal will be presented to the doctoral capstone committee by the end of Summer 2 so that the student is ready to begin the capstone experience (OTH 830) and complete their capstone project (OTH 831) in Spring 3.

Electives: Students are also required to take two electives that advance knowledge in one or more concentrated areas so they will be better prepared for the Doctoral Capstone. Examples include: 1) Practice (e.g. children and youth, adult acute care and rehabilitation, emerging practice, older adults, etc.); 2) Research and grant-writing; 3) Teaching; or 4) Leadership and policy.  Students will work closely with the Doctoral Capstone Coordinator and their faculty advisor to plan, seek approval, and take the 2 elective courses. There are many courses and certificates offered by the university that would help to advance the knowledge of our students. Within the College of Health, two certificates are offered:  Occupational and Physical Therapy in the Schools and Gerontological Studies.

To graduate from the program students must complete 103 credits of course work including required academic courses, two elective classes, two level II fieldwork experiences, and the doctoral capstone.  After passing academic courses, fieldwork, and the doctoral capstone, students are eligible to take the national certification exam for occupational therapists.  The certifying body for occupational therapists is the National Board for Certification in Occupational Therapy (NBCOT).  Students who pass the certification exam are eligible to be licensed in Ohio (and many other states) as occupational therapists. Students must complete Level II fieldwork and capstone requirements within 24 months following completion of the didactic portion of the program.