The John J. Bazyk Distinguished Speaker Day
In 1998, the Occupational Therapy Program faculty developed the OT Distinguished Speaker Day as a way to promote and celebrate our profession with our students, area clinicians, and university colleagues. Each year, we invite a leader in the field of occupational therapy or in the discipline of occupational science to spend time at CSU. This even has provided faculty, students and clinicians an opportunity to learn first-hand from nationally recognized scholars and innovators, and to interact with them on a personal level.
In 2000, the event was named in honor of John J. Bazyk, following his many years of leadership as the Director of the Occupational Therapy Program. Special thanks go out to Patrick Baker (OT '97) for the initial funding as well as the idea to honor John Bazyk.
We have been honored to host this impressive list of leaders in the field of occupational therapy:
2019
Mary Warren, PhD, OTR/L, SCLV, FAOTA
 

Ensuring Health Literacy: A Critical Component of Occupational Therapy Intervention in the 21st Centry

View lecture

2018
Tina Champagne, OTD, OTR/L, FAOTA
 

Cutchins Programs for Children and Families

Northampton, MA

"Exploring OT's Distinct Value in Trauma informed Care"

 

2017
Kristine Haertl, Ph.D., OTR/L, FAOTA

 

St. Catherine University

Minneapolis, Minnesota

"Therapeutic Use of Self and the Power of Occupation: Dancing to the Beat of the Music"

 

2016
Susan Bazyk, Ph.D., OTR/L, FAOTA
 
Clevleand State University
Cleveland, Ohio
"Occupational Therapy's Distinct Value in Mental Health Promotion, Prevention, and Intervention Across the Lifespan"

View Lecture

2015

Virginia Stoffel, PhD, OT, BCMH, FAOTA
 

University of Wisconsin

Milwaukee, Wisconsin

"Addressing What Matters:  Using Motivational Interviewing in Occupational Therapy"

 

2014

Glen Gillen, EdD, OTR, FAOTA

 

Columbia University

New York, New York

#A Fork in the Road:  An Occupational Hazard?"

 

2012
Ruth Zemke, PhD, OTR, FAOTA
 

University of Southern California

Los Angeles, California

"The Meaning of Occupation in Time and Place"

 

2011
Roger Ideishi, JD, OT/L, FAOTA
 

University of the Sciences

Philadelphia, Pennsylvania

"Promoting Community Inclusion:  Access, Opportunity and Participation"

 

2010
Donna Downing, MS, OTR/L
 

University of New Hampshire

Durham, New Hampshire

"Becoming a research Clinician:  My Journey"

 

2009
Patricia Crist, PhD, OTR, FAOTA
 

Duquesne University

Pittsburgh, Pennsylvania

"Rallying Optimism and Resilience:  Becoming a Practice-Scholar in Daily Practice"

 

2008
Wendy J. Coster, PhD, OTR, FAOTA
 

Boston University

Boston, Massachusetts

"Joining Evidence and Clinical Expertise for Best Practice"

 

2007
Jeanne Jackson, PhD, OTR
 

University of Southern California

Los Angeles, California

"Occupational Therapy in Health and Wellness: Lifestyle Redesign®"

2006
Elizabeth Townsend, PhD, OT(C), Reg.N.S., FCAOT
 

Dalhousie University

Halifax, Nova Scotia, Canada

"How Does Occupational Justice Fit with Occupational Therapy Practice?"

 

2005
Doris Pierce, PhD, OTR/L, FAOTA
 

Eastern Kentucky University

Richmond, Kentucky

"Designing for Creative Occupation-Based Practice"

2004
Loree Primeau, PhD, OTR, FAOTA
 

University of Texas Medical Branch

Galveston, Texas

"Work and Play in Families"

2003
M. Carolyn Baum, PhD, OTR, FAOTA
 

Washington University

St. Louis, Missouri

"Fostering Participation for Older Adults:  A Global Issue-A Unified Approach"

2002
Karen Jacobs, EdD, CPE, OTR/L, FAOTA
 

Boston University

Boston, Massachusetts"

Violence Prevention in the Schools"

2001
Charles Christiansen, EdD, OTR(C), FAOTA
 

University of Texas Medical Branch

Galveston, Texas

"The Dimensions of Chronic Disease and Well-Being"

2000
Mary Law, PhD, OT(C)
 

McMaster University

Hamilton, Ontario, Canada

"The Cornerstones of Occupational Therapy:  Partnership and Evidence"

1999
Suzanne Peloquin, PhD, OTR, FAOTA
 

University of Texas Medical Branch

Galveston, Texas

"Reclaiming the Affective Dimension of Practice"

1998
Christine Helfrich, PhD, OTR/L
 

CSU OT '87

University of Illinois 

Chicago, Illinois

"Domestic Violence and Occupational Therapy:  Implications for Practice"
John Bazyk, Glen Gillen (2014 Distinguished Speaker), Glenn Goodman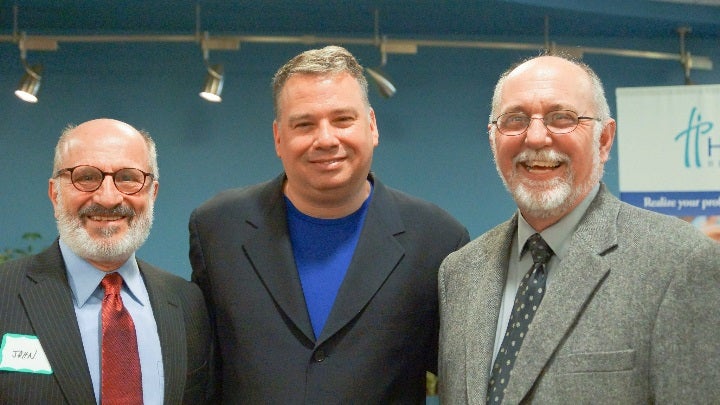 MOT Faculty with 2015 Speaker and AOTA President, Ginny Stoffel