Department of Physical Therapy Curricular Philosophy
Physical therapy is an integral component of health care, and a profession that promotes health and optimal function across the life span.   Using the International Classification of Functioning, Disability, and Health enablement (ICFDH) and Patient/Client Management models as the theoretical bases of care, the physical therapist relates therapeutic activities to body functions and structures, while considering the context of individual differences, culture, social setting, psychological influences, and economic constraints.  Focus of care includes attention to 'best practice' examination and interventions as well as prevention, health promotion and wellness activities.
The Doctor of Physical Therapy program curriculum is based on a liberal studies foundation.  A professional entry-level education in Doctor of Physical Therapy includes gaining a unique body of knowledge and skills, including; the application, analysis and integration of theories and therapeutic principles;  the ability to teach, interact and communicate effectively; the use of evidence to support practice decisions; the ability to function effectively as a member of a team; the ability to solve complex problems and to use discriminatory critical thinking, and the capability to participate in quality improvement activities and appropriately utilize infomatics.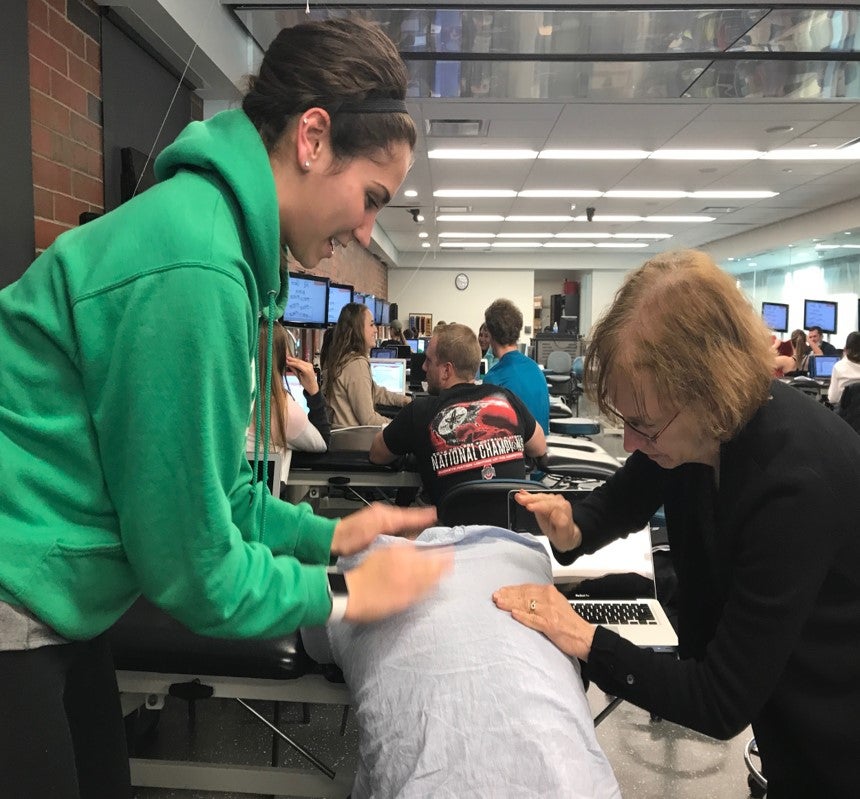 The faculty believes that the development of professional integrity, values and behaviors is an essential element of clinical preparation.  Therefore, emphasis is placed on social responsibility, ethical behavior, professional behavior and professionalism throughout the program.
Throughout, the curriculum integrates theoretical and practical knowledge and develops critical thinking skills required to respond to trends or changes in physical therapy practice, especially within a culturally diverse, urban health care context.   In addition to the core behavioral and clinical sciences, elective courses enable students to explore areas of special interest.
The faculty expects that students will enter the professional program as adult learners with unique characteristics, life experiences, interests and learning styles.  Therefore, the Program promotes teaching methods that encourage students to be self-directed individuals, active learners and to take responsibility for their own education. Graduates are expected to be reflective practitioners and leaders, as well as to demonstrate their ongoing commitment to the physical therapy profession through the continued professional development and pursuit of life-long learning activities.
Doctor of Physical Therapy Program Curricular Outcome Objectives
Upon completion of the program, graduates will practice physical therapy in a variety of settings, in order to promote optimum health across the life span and will:
Apply the ICFDH and Patient/Client Management Models in the delivery of physical therapy services.
Integrate biological, physical, ethical, social an psychological principles and theories to assist others to optimize their capacity to function within the environment.
Use interaction and communication skills in all professional relationships.
Use critical thinking and discriminatory judgment when making decisions in the practice of physical therapy.
Value and continuously develop the existing and evolving roles of the physical therapist as a teacher, researcher, consultant, administrator, and advocate.
Practice in a reflective fashion and pursue ongoing professional development and life-long learning experiences.
Demonstrate a sense of responsibility in regards to contemporary health issues and participate in activities that advance physical therapy and serve the community.
Curricular Themes:  The CSU DPT Program emphasizes physical therapy service delivery within a culturally diverse, urban context:
Patient centered care (using ICFDH & Patient Management models)
Life span perspective
Ethical behavior, professional behavior, professionalism (core & program values)
Cultural competency
Effective interactions/communication, including teaching skills
Evidence based practice
Health promotion, prevention & wellness
Professional development & life long learning
DPT Curriculum Table
 

Spring 

Summer 

Fall 

DPT 1

HSC 575 Gross Anat. (3 cr.)*

HSC 557 Gross Anat. Lab (3cr.)*

DPT 601 Anat. Bridge (1 cr.)*

DPT 602 Clinical Seminar (1 cr.)

DPT 607 Pharmacotherapeutics (2 cr.)**

DPT 642 Funct. Anat. (3 cr.)

DPT 650 Theory & Pract. I (3 cr.)

DPT 692 Scientific Inquiry (2 cr.)

 

 

Total: 12-18 semester hours

DPT 603 Basic Prof. Interactions (2 cr.)

DPT 604 Pathology for PTs (4 cr.)

DPT 605 Clinical Seminar (1 cr.)

DPT 607 Pharmacotherapeutics (2 cr.)**

DPT 652 Theory & Pract. II (3 cr.)

DPT 654 Theory & Pract. III (3 cr.)

 

 

Total: 13-15 semester hours

DPT 606 PT Documentation I (1cr.)

DPT 608 Funct. Neuroscience (4 cr.)

DPT 609 Clinical Seminar III (1 cr.)

DPT 672 Comp. Cond. I (3 cr.)

DPT 774 Comp. Cond. IV (3 cr.)

DPT 756 Theory & Pract. IV (3 cr.)

 

 

Total: 15 semester hours

DPT 2

DPT 610 Documentation II (1 cr.)

DPT 638 Life Span Development (3 cr.)

DPT 674 Comp. Cond. II (3 cr.)

DPT 701 Teaching & Learning (2 cr.)

DPT 703 Clinical Seminar IV (1 cr.)

DPT 772 Comp. Cond. III (3 cr.)

DPT 790 Admin. & Mngmt I (2 cr.)

HSC 624 Interdiscip. Team (1cr.)

 

Total 16 credit hours

DPT 704 Clinical Integration (1 cr.)

DPT 686 Applied PT I (5 cr.)

**8 wks. full time clinical practice

 

Total: 6 credit hours

DPT 705 Adv. Interactions (1 cr.)

DPT 706 Clinical Seminar V (1 cr.)

DPT 758 Theory & Pract. V (3 cr.)

DPT 776 Comp. Cond. V (3 cr.)

DPT 778 Comp. Cond. VI (3 cr.)

DPT 793 Admin. & Mngmt II (2 cr.)

HSC 625 Interdiscip. Team II (1 cr.)

 

Total: 14 credit hours

DPT 3

DPT 786 Applied PT II (5 cr.)

**8 wks. full time clinical practice

 

DPT 788 Applied PT III (5 cr.)

**8 wks. full time clinical practice

 

Total: 10 credit hours

DPT 801 Clinical Seminar VI (1 cr.)

DPT 872 Comp. Cond. VII (3 cr.)

DPT 895 Admin. & Mngmt III (2 cr.)

Electives (2-5cr.)***

 

 

Total: 8-11 credit hours

DPT 890 Comp Exam (1 credit)

DPT 886 Applied PT IV (5 credits)

**14 wks. full time clinical practice

 

 

 

Total: 11 credit hours

 

* Students may take an Anatomy Bridge course in place of HSC 575/557 if they have completed a full cadaver lab as an undergraduate student.

**DPT 607 recommended in spring for students who have Gross Anatomy waived and in the summer for students who take Gross Anatomy in the Spring

*** Student must also complete 5 credits of electives during the Program

 

DPT 598 Independent Study (variable credit). Available to students who wish to assist faculty with research

TOTAL CREDITS OF DPT PROGRAM = 

                                              113 CREDITS