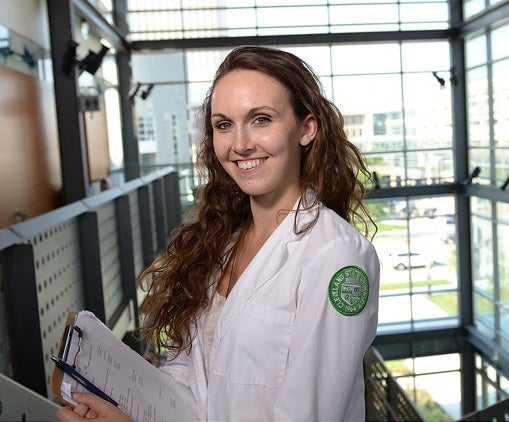 Why a BSN Degree?
Nurses today must be able to deliver care to individuals and groups in a rapidly changing healthcare system. The Cleveland State University School of Nursing prepares graduates of its Bachelor of Science in Nursing program with the strong theoretical and clinical foundation necessary for them to function as professional nurses. Our community-based nursing program prepares students to deliver care in a variety of settings, leading the response to the challenges of our changing health care environment. Our nursing program prepares students with the skills necessary for entry into nursing practice and pursuit of graduate education in nursing.
How to Get Started:
It is recommended that you attend an information session or schedule an appointment with a Recruiter/Advisor at (216) 687- 3598. Bring copies of your academic transcripts for all universities attended for evaluation of the prerequisite coursework. Transcript evaluations can be done through email, fax, or in person.
Students must complete prerequisites for the nursing major (time frame for completion varies by student) and apply directly to the School of Nursing for acceptance into the nursing major classes. The major nursing classes are full-time and completed in three years. 
Prerequisite Coursework
Anatomy & Physiology I & II
Chemistry I & II
Microbiology
English I & II
College Level Mathematics
Psychology
Applicants must be proficient in Microsoft Word, Excel and Power Point
These courses must be completed prior to beginning the Nursing sequence. Please contact a nursing advisor for individual guidelines. You may only complete one science course once for a better grade. Two less than C grades in the above listed prerequisites are not permitted.
Admission Guidelines
Begin the admission process by attending an information session. Details and a schedule can be found on our website. You may also call the School of Nursing and schedule and appointment with an Advisor (phone 216.687.3598). Admission is a two step process. Please read the steps below carefully.
Requirements for admission include:
Apply for admission to CSU four to six weeks prior to any School of Nursing deadlines.
Complete all prerequisite coursework with a grade of "C" or higher. Maintain an overall prerequisite GPA of at least 2.75.
Maintain a cumulative GPA of at least 2.50.
Apply for admission to the School of Nursing. Deadlines are January 1st for early decision and March 1st final deadline for the fall cohort. September 1st is the deadline for the spring cohort. Click here for more information regarding the Spring cohort!
Must have successfully completed two of the science prerequisites at the time of application submission.
School of Nursing application materials include: SON application, fee, transcripts, two recommendations, and resume.
Selection Criteria
Selection of students is based on a number of criteria including prerequisite course grade point average, cumulative grade point average, recommendations, resume, interview, an essay (written at the time of the interview) and identified related health care experience. The selection process is competitive and the number of spaces in the program is limited. Students not admitted or who do not accept an admission slot must reapply. There is no ongoing waiting list.
ESL
English as a Second Language (ESL) students are required to contact the English as a Second Language Department to arrange an assessment of their English language skills. The assessment may outline additional coursework that must be completed before admission to the nursing major.
http://www.csuohio.edu/ce/esl/