Update your knowledge and skills in 6 weeks
| RN Refresher Program | Lab Resources | Participant Testimonials |
This focused in-person program will update your nursing knowledge and clinical understanding in only 6 weeks, whether it be to move to a new position or return to employment in nursing. Five days of didactic class instruction and 4 days of hands-on skills review in the CSU Nursing Resource Lab (NRL) will refresh your knowledge and skills and build your confidence to re-enter the work force.
LPN's are welcome
Each classroom session includes an in-person recruiter visit from local healthcare and hospital systems where you will be informed of current position availability, compensation, benefits, training, shadow opportunities, and given personal assistance throughout the hiring process. 
This program meets the Ohio Board of Nursing requirements for contact hours needed to reactivate an inactive/ lapsed license.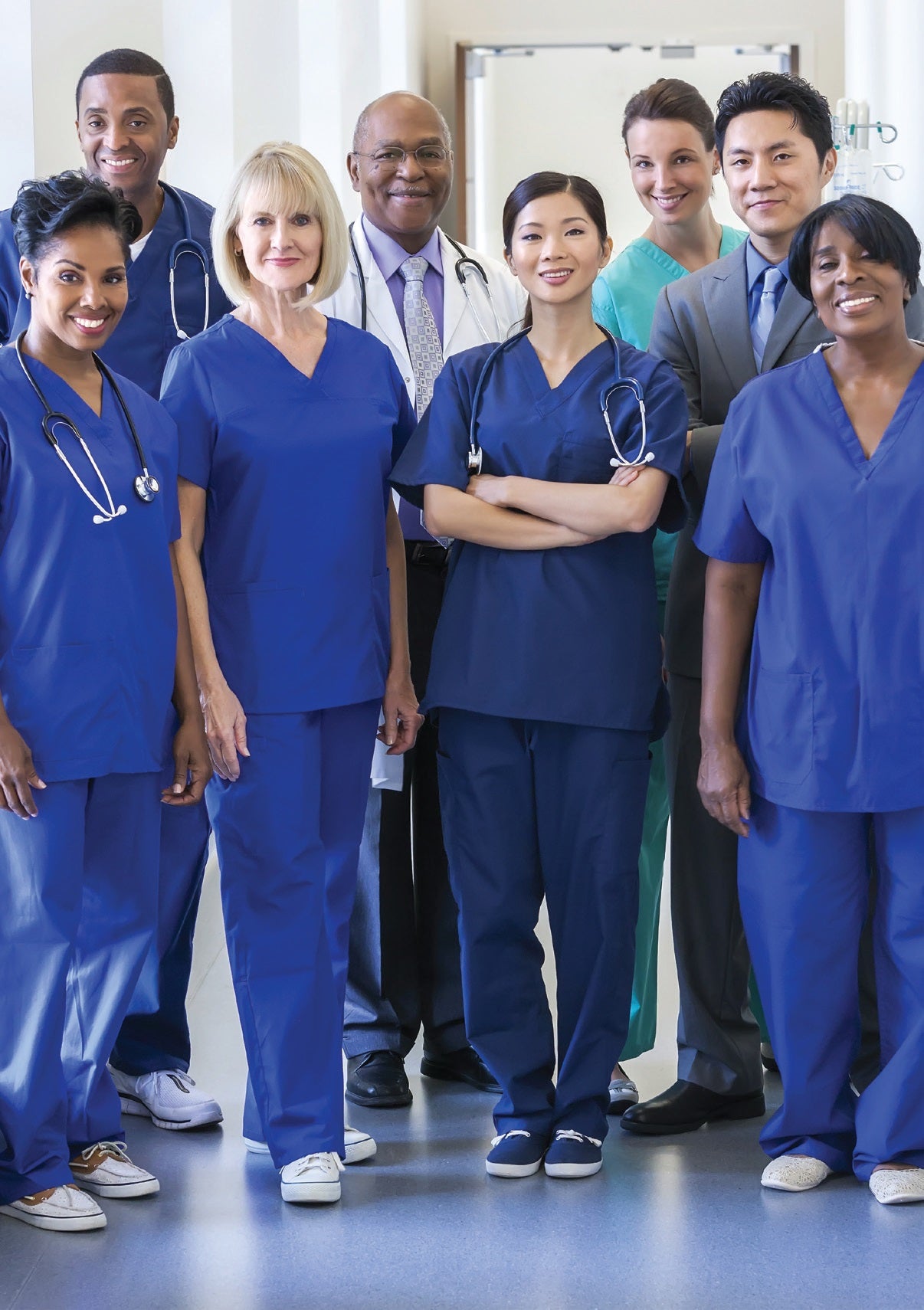 Plan ahead and register for an information session, where you will meet other nurses contemplating the program, hear more about the program content, schedule, and expectations, and enjoy a tour of our Nursing Resource Lab (NRL), where you will be practicing your skills during the lab week. 
Two Information sessions are available. We highly recommend attending a session to familiarize yourself with the downtown parking and room location before the first day of the program. The sessions include a tour of the nursing resource lab where you will be practicing your skills during the lab week. Parking, driving, and other information for the sessions will only be sent to those who have registered at least 2 business days before the session.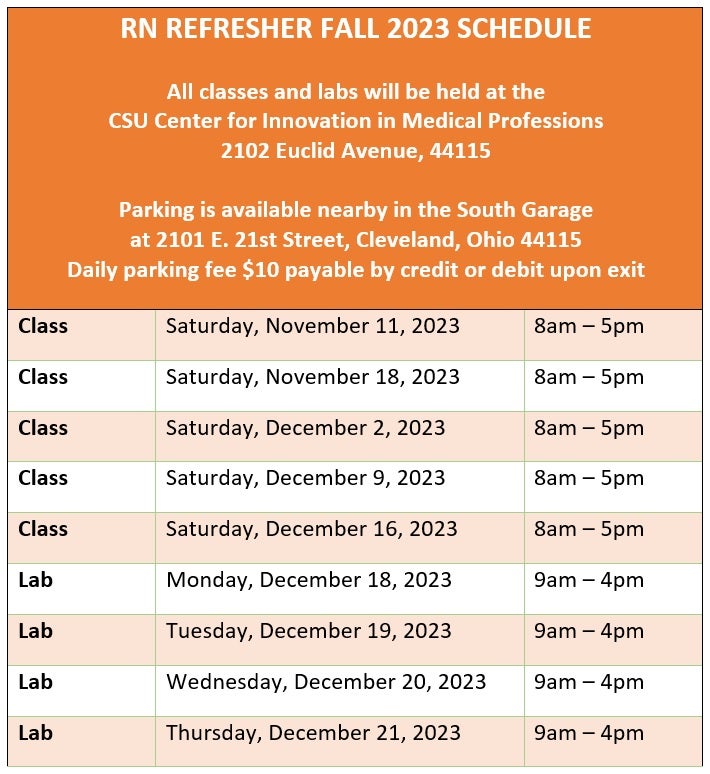 TUITION: $1895
Credit or Debit Card payment ONLY. No check, cash, or money orders accepted
South Garage parking fee is $10 per day
Registration Deadline is Monday, November 6, 2023
We welcome LPNs in the program

The Workforce Innovation and Opportunity Act (WIOA) funds grants to eligible adults for job skills training. If you're looking to upgrade your skills, WIOA can help find the funding. There are two ways to establish eligibility:
1: Dislocated worker: If you've lost a job through no fault of your own (company closure, laid off, military spouse relocation), you can qualify. Your prior income does not affect your eligibility if you're a dislocated worker.
2: Adult income-eligible: If your household income is less than 250% of the Federal Poverty Level (chart at the link provided), you may qualify to have your training funded through WIOA.
to check WIOA Eligibility Click Here
to get more information Click Here
---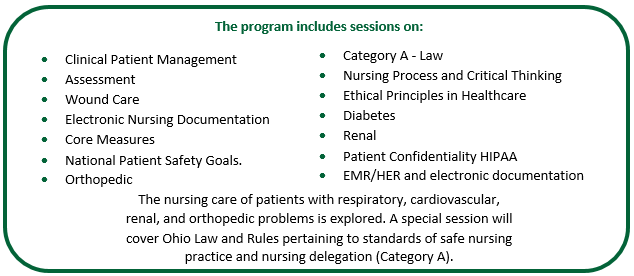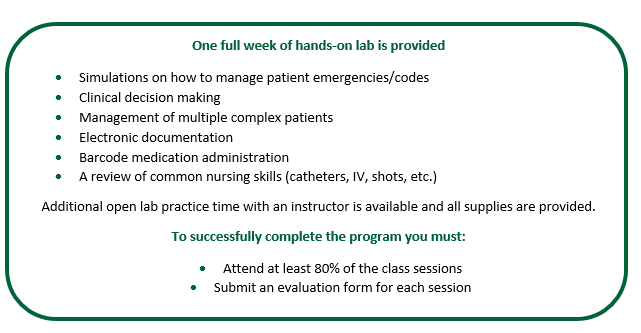 ---
PLEASE NOTE: Satisfactory completion of the Refresher Course may be an asset in seeking employment in nursing, particularly in those institutions that require the course for re‑entry into nursing practice.  However, you are responsible for your own job placement and completion of the course does not guarantee a nursing position.
---
Registration and Payment
All registration and payment for CSU Continuing Education programs must be processed through CSU's secure online system. Visa, MasterCard, and Discover (credit or debit) are the only forms of payment accepted, and they must be processed through the online payment system. No payments are accepted by phone or through USPS mail, as these are not secure methods to transfer payment information. Money Orders, Purchase Orders, American Express, Personal Checks, and Cash are NOT accepted forms of payment for any CSU Continuing Education program.
Refund Policy
Intent to withdraw must be made known two full business days before the start of the program for a refund to be processed.
Call (216) 687-3867 or email j.n.muscatello@csuohio.edu to withdraw.
No refunds will be issued for requests received less than two full business days before the program.
---
Required Disclosures to Learners
No one with the ability to control content of this activity has a relevant financial relationship with an ineligible company.
Criteria for Successful Completion: Attend entire session and submit an evaluation form.
Accreditation Statement: Cleveland State University School of Nursing /College of Health is accredited as a provider of nursing continuing professional development by the American Nurses Credentialing Center's Commission on Accreditation (P-0784).
Standards of Safe Practice for RNs and LPNs - This CE Activity, OLN-S-3129-2023 offered by Cleveland State University School of Nursing Association has been approved for 1.5 Category A contact hours by the Ohio Board of Nursing through the approver unit at the Ohio League for Nursing (OBN-006-92) and the program is approved to be offered through April 13, 2025
Standards of Safe Practice and Delegation for RNs and LPNs -This CE Activity, OLN-S-3124-2023 offered by Cleveland State University School of Nursing Association has been approved for 1.0 Category A contact hour by the Ohio Board of Nursing through the approver unit at the Ohio League for Nursing (OBN-006-92) and the program is approved to be offered through April 13, 2025
---
South Garage location and rates