CSU's three-semester online master's degree in health sciences offers a flexible curriculum taught by faculty with diverse healthcare backgrounds. Learn more!
Online Master of Science in Health Sciences
The health sciences are dynamic and multidisciplinary, covering a wide range of topics related to nurturing and improving human health and well-being. This discipline combines scientific principles with practical applications to address various aspects of healthcare, research and patient care. Cleveland State's online master's degree in health sciences offers a broad overview of the U.S. healthcare system and empowers leadership and cultural competency.
The MSHS degree prepares students for the next phase of their career, whether advancing into a leadership role, preparing for graduate professional school (like medical school) or pursuing a research interest. The flexibility of our online program allows students to cater their coursework and projects to topics that are interesting and important to them.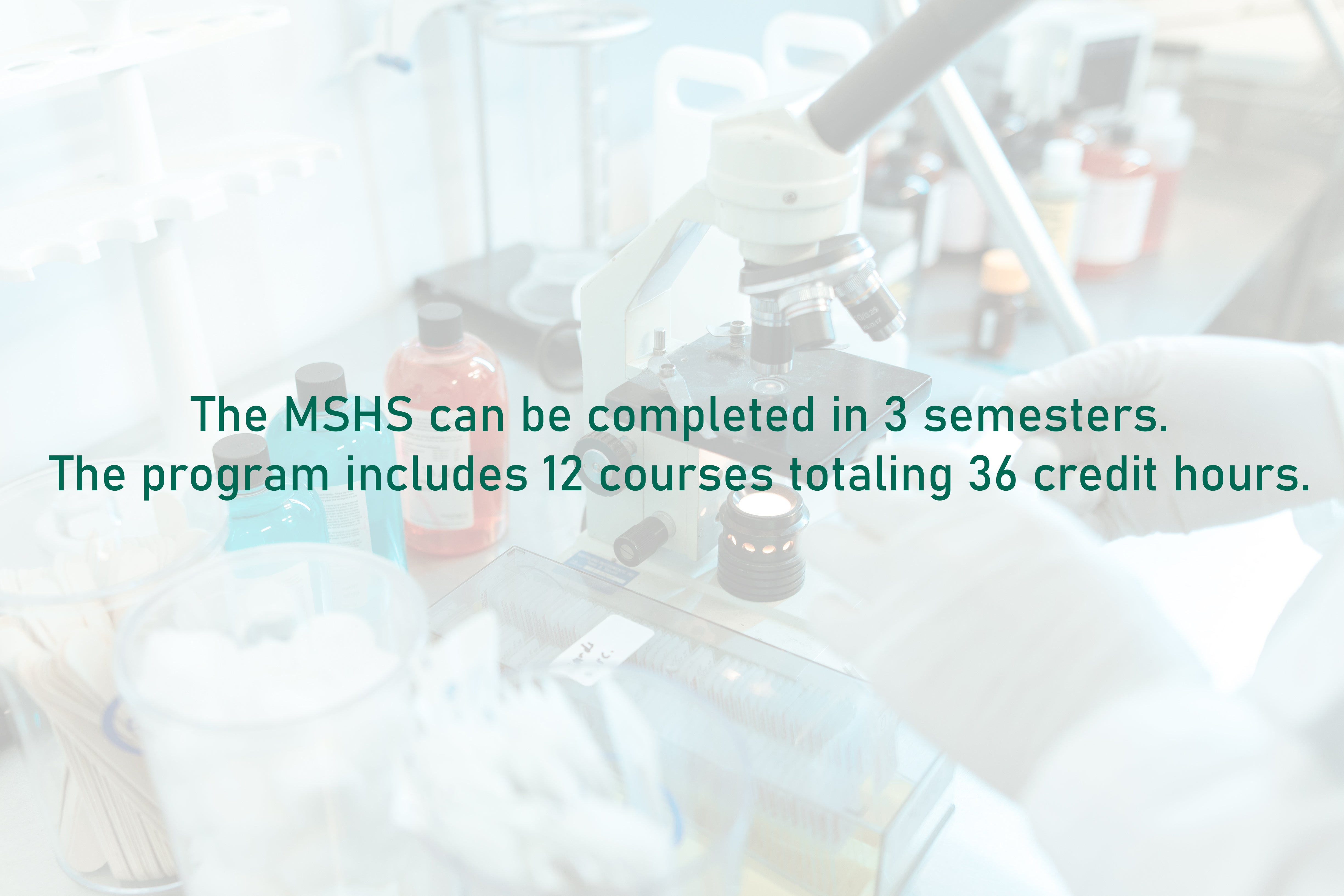 Why Pursue Your MSHS Degree Online at Cleveland State
A health sciences master's degree is versatile by nature, but at CSU, we take that adaptability to the next level through benefits such as:
Flexible, supportive format:

You can complete the program fully online, allowing you to earn your master's degree in health science from the convenience of your own home. In addition, you may choose elective courses offered in a traditional classroom format, and most faculty are available on campus and easily accessible for advising, mentoring or assistance with coursework.

Advance your career in three semesters:

The health sciences master's degree consists of 12 courses totaling 36 credit hours. Complete the program in only three semesters and get a step closer to your dream career.

Customize your path:

With an MSHS, you can customize your degree path to develop knowledge and abilities specific to your career needs. Working with our advisors, you can identify the courses to help you move into leadership positions and forge your research skills.

Expert faculty:

Our

faculty

bring experience as public health practitioners, health promotion specialists, medical anthropologists, anatomists, physiologists, neuroscientists, medical physicians and healthcare executives, and they are here to help you succeed academically and professionally.

Individualized advising:

Supporting your success, the Program Director provides advising to assist in identifying your career objectives and help you develop an individualized degree completion plan.
Program Curriculum 
Designed to suit your professional interests and goals, the curriculum of the health sciences master's degree program offers a range of courses in foundational healthcare topics. Students tailor their education to focus areas such as research, ethics, business and informatics. 
Core classes include:
Issues in health science

Leadership roles in health sciences

Culture and healthcare

Evidence-based practice

Outcomes assessments

Program development and evaluation


 
Urban Health Track
Cleveland State's Urban Health track integrates a graduate Urban Health Certificate into the MSHS degree curriculum. Classes in the track include seminars that cover topics important to urban practitioners, including health disparities, cultural competence and the healthcare landscape of Cleveland, Ohio.
Review the catalog to learn more about courses in the online MSHS degree program.
Health Science Careers
Our alumni report that earning the Master of Science in Health Sciences online often leads to a promotion or career advancement or has served as a valuable stepping stone in preparing for medical school. 
Our health sciences graduates collaborate in their workplace, engage in interdisciplinary research teams, develop health promotion programs for their patients and adjust those programs to their community's changing needs and challenges.
Prepare for exciting roles, including:
Clinical Department Manager

Research Associate

Community Health Promotion Specialist


 
Admission Requirements
Applicants to the Master of Science in Health Sciences program must hold a baccalaureate or advanced degree from an accredited institution, be a licensed healthcare professional or have a degree related to health sciences with plans to work in a healthcare setting.
Students should meet the following minimum requirements:
Minimum undergraduate GPA of 2.75.

Submit official transcripts for all colleges and universities attended.

Scores for the Graduate Record Examination (GRE) or other equivalent standardized test for graduate admissions (DAT, GMAT, LSAT, MCAT and PCAT) taken within the past five years. 

Note:

CSU may waive the standardized test requirement for students who have previous relevant graduate degrees, relevant post-graduate certificates/licensure or professional experience.

Three letters of recommendation from individuals who are familiar with your work and can assess your academic preparation, abilities and accomplishments. These may be from previous instructors, supervisors or professional colleagues.
Non-native English speakers who do not have a bachelor's degree or higher from an accredited U.S. institution must demonstrate proof of English language proficiency. Learn more about non-native speaker requirements.

Learn More About the Online Master's Degree in Health Sciences
In Cleveland State's online Master of Science in Health Sciences degree program, develop your passion for healthcare and commitment to ethical and professional standards. Customize your degree path and learn from faculty with diverse backgrounds as you empower your desire to improve health outcomes and make a meaningful difference in the lives of others.
Learn more about the health sciences master's degree by requesting information or contacting a program staff member directly.
Program FAQs
When can I apply and start?
Our program offers rolling admissions! While we do have application deadlines for each semester, you can apply to start for a term that is convenient for you.
How many classes do I have to take each semester?
Our program is 36 credit hours but you can take as many or as few courses each semester as you would like. Most students attending full time take 3-4 courses each semester (9-12 credit hours). This is up to you! Students trying to complete the program in 3 semesters may choose to take 12 credit hours each semester.
How do I know what classes to take?
All MSHS students have a faculty member who serves as their advisor. This person can help you schedule your courses, find courses that meet your personal interests and needs and develop a plan of study to help you achieve your goals. We develop your schedule with our core and required courses first and then help you identify those electives to fill in the rest of your schedule.