Advance your career with a degree in Health Sciences!
With a Master of Science in Health Sciences you can customize your degree path to develop knowledge and skills specific to your career needs. Working with our advisors, you can identify the courses that will help you move into leadership position and advance your research skills.
Our curriculum is designed to provide a foundation in today's health delivery system, leadership and cultural competence which transfer to all health settings. We provide room for 12 credits of electives and encourage you to pursue certificates and concentrations like community health promotion, public health, and gerontology that help set them apart.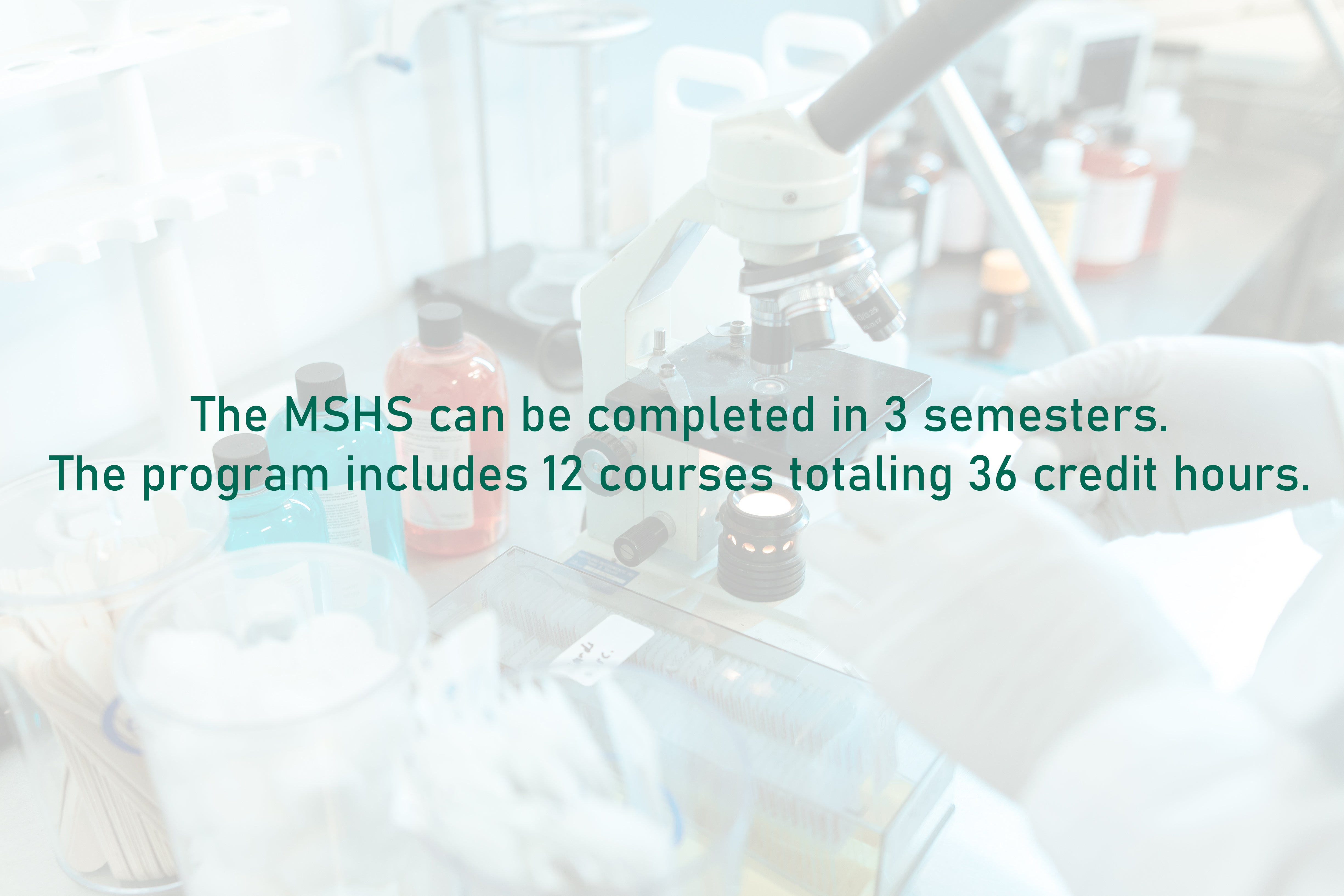 The MSHS prepares you for the next phase of your career, whether it is advancing into a leadership role, preparing for graduate professional school (like medical school) or pursing a research interest. The flexibility of our program allows students to really cater their coursework and projects to topics that are interesting and important to them. Learning alongside students who are in interprofessional education and be a more valuable team member.
While our program can be completed online, most faculty can be found on campus and are easily accessible for advising, mentoring or assistance with coursework. You have the ability to choose elective courses that are offered in a traditional classroom format if you prefer. We are engaged with out local community and encourage students to participate when they are able.
Career Outcomes and Job Opprotunities 
Our alumni report that earning the Master of Science in Health Sciences often leads to a promotion or career advancement or has served as a valuable steppingstone in preparing for medical school. We see our students collaborating in their workplace, engaging in interdisciplinary research teams, developing health promotion programs for their patients and adjusting to the changing needs of their community.
Prepare for exciting roles including:
            Clinical Department Manager
            Research Associate
            Community Health Promotion Specialist
Learning Methodology
In the MSHS program you will work at your own pace to develop a solid foundation of the major issues in today's health care environment, leadership considerations, the value and role of culture in health and the impact that these things can have on health status. Our students learn with other professionals to tackle real problems they may face in their career. Our program has an emphasis to create healthier populations. What you learn in our program can apply to all areas of health and all workplace settings.
Faculty
Faculty in the MSHS program come from a variety of backgrounds and add depth to the courses they teach with this experience. We have public health practitioners, health promotion specialists, medical anthropologists, anatomists, physiologists, neuroscientists, medical physicians, and health care executives on staff teaching the courses you will complete in our program. Our faculty are here to help you succeed academically and professionally as you take this next step in your career. The faculty are connected to the community both here in Cleveland and in their profession which can help us advise and mentor you in your area of interest!
 
FAQ
When can I apply and start?
Our program offers rolling admissions! While we do have application deadlines for each semester, you can apply to start for a term that is convenient for you.
How many classes do I have to take each semester?
Our program is 36 credit hours but you can take as many or as few courses each semester as you would like. Most students attending full time take 3-4 courses each semester (9-12 credit hours). This is up to you! Students trying to complete the program in 3 semesters may choose to take 12 credit hours each semester.
How do I know what classes to take?
All MSHS students have a faculty member who serves as their advisor. This person can help you schedule your courses, find courses that meet your personal interests and needs and develop a plan of study to help you achieve your goals. We develop your schedule with our core and required courses first and then help you identify those electives to fill in the rest of your schedule.